What you do get when you combine Ford Motor Company and LEGO?
All I can say is, you get a whole lot of fun!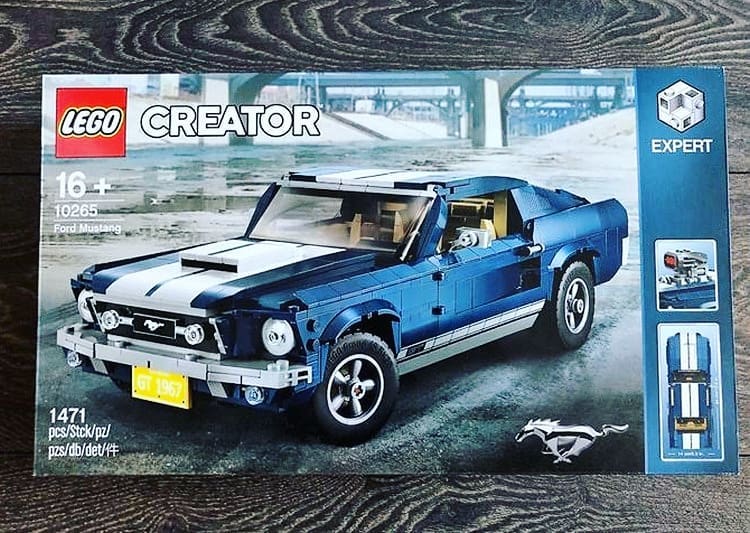 Ford Motor Company teamed up with another icon to create an authentic replica of a 1960s Mustang that you can customize – and it won't take up precious garage space.
The LEGO® Creator Expert Ford Mustang is what happens when our Pony car got downsizing treatment from the famous toy company. We helped the LEGO Group develop this advanced building set, which has 1,471 pieces. The car sports dark-blue bodywork with white racing stripes, an air scoop, five-spoke rims, road-gripping tires and a selection of customization add-ons.
The Mustang replica also has moving parts. You can open the doors and remove the roof panel as well as lift the hood to see the realistic, detailed big-block 390 V8 engine and its battery, hoses and air filter. Pop the trunk if you want to store items. Plus, there's working steering and you can adjust the lift of the rear axle.
Authentic replica of a 1960s Ford Mustang featuring dark-blue bodywork with white racing stripes, air scoop, 5-spoke rims with road-gripping tires, and a selection customization add-ons.
Features include:
-Open the doors or remove the roof panel to access the detailed interior with handsome seats, radio, mid-console gearshift and working steering.
-Open the trunk to store items and lift the hood to reveal a detailed Ford Mustang V8 engine with battery, hoses and air filter.
-Also includes a printed mustang grille badge and 2 GT emblems.
-Customize the Ford Mustang with the included supercharger, rear ducktail spoiler, beefy exhaust pipes, front chin spoiler and a nitrous oxide tank.
-Choose from a selection of license plates.
-Lift the hood to check out the realistic engine detailing.
-Adjust the lift of the rear axle for a real mean look!
-New-for-March-2019 special elements include 5-spoke rims, 2x8 brick with bow, 1x3 mustang logo tile, 2x4 bow with 'GT' Emblem.
-Measures over 3" (10cm) high, 13" (34cm) long and 5" (14cm) wide.
Retail $149.99